Hoof Care » Carr & Day & Martin Cornucrescine Daily Hoof Dressing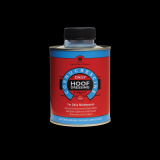 Other products by Carr & Day & Martin:
Description
• Unique Cornucrescine formulation in an easy brush-on application. Suitable for all hoof types
• Nourishes and maintains healthy hooves; ideal for daily use
• Ensure the hoof is clean and dry. Apply liberally with internal brush to the hoof wall and, if required, the sole, on a daily basis. For damaged hooves, also apply Cornucrescine Original Hoof Ointment to the coronet band to accelerate hoof growth and aid re-structuring
• 500ml will last up to 4 weeks, when used daily
• Key ingredients: essential oils, lanolin
Quantity in stock: 2
Product variations that are not in stock are generally available within a period of 1 to 3 days.
This price includes 21% VAT, possible discount and excludes delivery costs.