Travel Boots » Horseware Amigo Travel Boots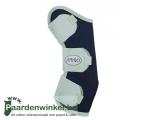 Other products by Horseware:
Description
Self supporting boot with 3 wide velcro straps for quick and easy application
Coordinate with the other products in the Amigo Spring 2012 range
Available in:
Size: Pony, Cob & Full.
Colour: Navy/Zilver, Blue/Blue Yellow, Magenta with Thyme, Excallibur Gunmetal/Aqua & Choc/Choc Lime Green.
Not in stock.
Product variations that are not in stock are generally available within a period of 1 to 3 days.
This price includes 21% VAT, possible discount and excludes delivery costs.