Birth Alarm » Birth ALarm Birth Alarm Advanced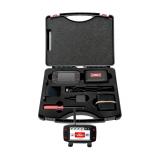 Other products by Birth ALarm:
Description
Birth Alarm Advanced:
the latest birth alert in the Birth Alarm range!
This birth-alert system has been developed to offer you a complete system after years of experience in the field. The system is easy to install and can be fitted to the anti-roll girth or the halter.
The birth of a foal is a special moment and the owner of a pregnant mare wouldn't want to miss it for the world. The birth can be quick and generally takes place at night. It remains difficult to guess when the birth will take place. That makes it even more important that you are warned on time.
When labour starts, a mare will lie completely on her flanks. That is a typical position for the birthing process, because in this sideways position it is easier for her to deal with the contractions. The Birth Alarm transmitter responds to this. It raises the alarm automatically from the time the mare stays in this typical position for 7.6 seconds.
The Birth Alarm Advanced is the latest development in the area of birth alerts. This foal-birth alert can be connected to 4 different horses. Furthermore, it has the option to monitor the health of your horse with the advanced colour display. The system has a reach of 500 metres and you can see the battery status and signal strength at any time. Around 15% of pregnant mares sleep fully on their flanks and are an exception to the rule. For those mares, the Birth Alarm Advanced has a special sleep function. It means you are certain that the start of a birth will be detected.
You can also use the Birth Alarm Advanced as a warning device for the health of your horse. When your horse or pony has a serious colic and stays more than 2 seconds in a critical sideways position during a cramp attack, the alarm of the receiver goes off automatically. It ensures you are always warned in case of danger to the health of your horse!
The benefits of a Birth Alarm Advanced:
4 connected mares
Colour displays that dims automatically at night
Can be fitted to the halter or the anti-roll girth
Includes sleeping position
Includes monitoring position
Quantity in stock: 10+
Product variations that are not in stock are generally available within a period of 1 to 3 days.
This price includes 21% VAT, possible discount and excludes delivery costs.