Drinking Bowls » Horizont AGRAR Plastic Swimmer drinking bowl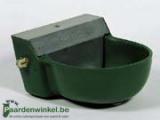 Other products by Horizont AGRAR:
Description
Constant water level
Very solid plastic cup with stainless steel cover.
With resistant swimmer valve and 1/2" brass water connection on the side.
Easy adjustable of water level.

Approx. water flow quantity 10 litres*.
Not in stock.
Product variations that are not in stock are generally available within a period of 1 to 3 days.
This price includes 21% VAT, possible discount and excludes delivery costs.