General Care » Carr & Day & Martin Cooling Leg Clay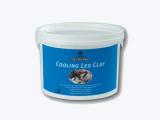 Other products by Carr & Day & Martin:
Description
• Cools and soothes hot, tired legs and supports tendons and ligaments after long and strenuous work
• Traditional leg clay in a ready mixed formula that is quick and easy to use and remove
• Suitable for application to kicks and bruises (do not apply to broken skin)
• Long-lasting action, leave on for up to 24 hours
• Apply a 1cm thick layer to dampened area with a spatula, leave for up to 24 hours and remove with cold water. Can be used in conjunction with bandages and brown paper for additional support
• 3 kg will last up to 5 full applications, dependent on usage
• Key ingredients: bentonites, ferrous sulphate, selected minerals
Product variations in stock:
Product variations that are not in stock are generally available within a period of 1 to 3 days.
This price includes 21% VAT, possible discount and excludes delivery costs.