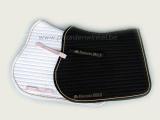 Description
Bucas Max Saddle pads offer a unique Stay-Dry function that wicks sweat and moisture away from the horse.
The perfect fit ensures superb comfort for the horse.
Available in:
Colour: White/Gold, Black/Gold, Brown/Gold & Navy/Gold.
Model: All Purpose.
Not in stock.
Product variations that are not in stock are generally available within a period of 1 to 3 days.
This price includes 21% VAT, possible discount and excludes delivery costs.