Jumping » Pessoa Gen-X Elite X-Change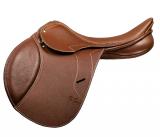 Other products by Pessoa:
Description
With Pessoa X-change system!
Rodrigo created the Gen-X range with the intention of providing an outstanding competition saddle at a moderate price, so that the riders may not resign their high standard range when jumping.
As with the rest of the Pessoa saddles, it also has the exclusive AMS® panel and the X-Change® adjustable tree system.
It also has the square seat finish-off which helps the rider to develop a balanced position when riding.
X-change system: Additional gullets can be easily interchanged to adjust for any horse.
Available in:
Size: 16 1/2 inch, 17 inch & 17 1/2 inch.
Colour: Oak Bark, Dark Brown & Black.
Not in stock.
Product variations that are not in stock are generally available within a period of 1 to 3 days.
This price includes 21% VAT, possible discount and excludes delivery costs.