Supplements » Equine America Super SO KALM Paste 30ml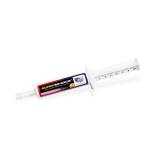 Other products by Equine America:
Description
Supplements for Horses from Equine America:

1 syringe of 30 ml, 3 x 10 ml per administration.
Reduces stress, relaxes and improves concentration
Ideal for anxious, nervous, easily distracted or difficult to manage horses
Used daily, Super So Kalm Powder promotes concentration without diminishing abilities
1 kg = 30 days of treatment (maintenance)
Contains magnesium and L-tryptophan, an amino acid required for the production of serotonin
Not in stock.
Product variations that are not in stock are generally available within a period of 1 to 3 days.
This price includes 21% VAT, possible discount and excludes delivery costs.