Wire, rope » Gallagher TurboLine Rope Terra 500m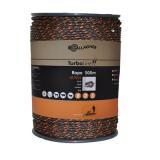 Other products by Gallagher:
Description
Braided TurboLine Cord prevents a lot of stretching and ensures a long life. By using 3 mixed metal wires in combination with 8 stainless steel wires an optimal conductivity is realised. Soft-touch cord and a low breaking strength of 225kg provide high safety for your animals.
Quantity in stock: 2
Product variations that are not in stock are generally available within a period of 1 to 3 days.
This price includes 21% VAT, possible discount and excludes delivery costs.