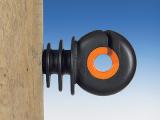 Other products by Gallagher:
Description
Improved ring insulator with unique advantages ove traditional black ring insulators. Much stronger due to new technology. More robust due to metal core. Chance of short circuit zero due to new design. Suitable for (plasticised) wire in combination with wooden pole.
Available in:
Contents: 25, 75, 125 & 250.
Product variations in stock:
Product variations that are not in stock are generally available within a period of 1 to 3 days.
This price includes 21% VAT, possible discount and excludes delivery costs.