Tape » Gallagher Poly Tape Insulator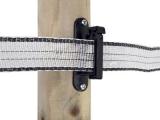 Other products by Gallagher:
Description
Insulator used to fix 40mm tape to wooden fence post. Can be stapled, nailed or screwed to post. The tape is very easy to fix.
Not in stock.
Product variations that are not in stock are generally available within a period of 1 to 3 days.
This price includes 21% VAT, possible discount and excludes delivery costs.