Spurs » Pessoa Metalab Small Rowel Dressage Spur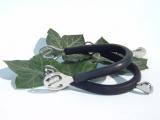 Other products by Pessoa:
Description
The "S" eyelet positions the spur strap better.
All the different models are made from stainless steel and covered with an immovable rubber band that grips the boot more securely.
Available in:
Length: 15mm, 20mm & 25mm.
Model: Man & Lady.
Not in stock.
Product variations that are not in stock are generally available within a period of 1 to 3 days.
This price includes 21% VAT, possible discount and excludes delivery costs.