Stable » Rubco Rubber poured floors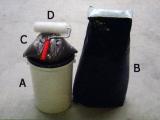 Description
Packaging:

bucket 50 kg; 3 to 4m² covered with a thickness of 12 mm

Packaging unit:

1 bucket fluid rubber (A), 1 bag hardener (C), 1 bag granules (B)

Weight:

with thickness 12 mm: approx. 15 kg/m²

with thickness 15 mm: approx. 20/m²

Color:

dark brown/anthracite (other colours available at extra cost)

IMPORTANT: The rubber poured floor is impervious and therefore highly suitable for horse trailers or lorries. According to current environmental requirements one must use an impervious floor.
Attention: The rubberproducts are heavy, thus a supplement to the delivery cost could be asked

Not in stock.
Product variations that are not in stock are generally available within a period of 1 to 3 days.
This price includes 21% VAT, possible discount and excludes delivery costs.