Connectors » Gallagher Tape joiner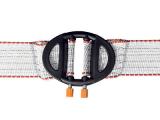 Other products by Gallagher:
Description
Innovative Gallagher design. For connecting any kind of tape (20 and 40 mm). Easy to install using the rucksack clasp principle. Now it is easy to connect, tension and release tape.
5 pieces
Product variations in stock:
Product variations that are not in stock are generally available within a period of 1 to 3 days.
This price includes 21% VAT, possible discount and excludes delivery costs.