Boots » Horizont AGRAR Winter Riding Boots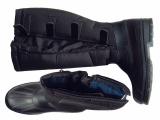 Other products by Horizont AGRAR:
Description
Waterproof Rubber Boots. Waterproof material (Cordura).
Extra thick Woolen lining, with aluminium foil for optimum isolation.
4 fasteners with hook and loop over-closure assure perfect fit.
Fluo reflector strip on the back makes you visible at night.
The ideal boot in snow, mud and in the stable.
Available in:
Size: 35, 36, 37, 38, 39, 40, 41, 42, 43, 44 & 45.
Not in stock.
Product variations that are not in stock are generally available within a period of 1 to 3 days.
This price includes 21% VAT, possible discount and excludes delivery costs.