Stable » Rubco Stable Tile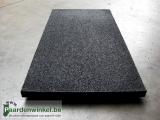 Description
The stable tile is specially developed for stables and horseboxes. These tiles are made of rubber granulate. The result: a resilient and hard-wearing product. The stable tile is moisture-permeable, so water and urine can easily run away. The tile has special studs on the underside so no dirt can become stuck behind. The top coat makes the surface easy to clean. Rubber Rubco tiles are resistant to high point loads. You will barely need any straw with their use.
Profile underside: special studs
Weight:

approx. 30 kg/m² with a thickness of 40 mm
approx. 44 kg/m² with a thickness of 55 mm
Attention: The tiles are heavy, thus a supplement to the delivery cost could be asked
Available in:
Size: 100x50x5,5cm & 100x100x4,0cm.
Colour: Black.
Not in stock.
Product variations that are not in stock are generally available within a period of 1 to 3 days.
This price includes 21% VAT, possible discount and excludes delivery costs.